Two of the biggest sports retail chains are currently testing SafeSize's Digital Sales Assistant in their stores in the Netherlands and Ireland. A global innovation, entirely made in Greece, born from Greek minds at the company's Innovation & Development Center in Athens.
The Digital Sales Assistant, a 'smart' autonomous digital sales assistant that helps consumers choose shoes with a perfect fit in both physical and online stores, will be tested during the summer season in the two European countries before making its way to international markets. In fact, the innovative product has reportedly already attracted the interest of the global footwear retail industry.
With the launch of the Digital Sales Assistant, SafeSize is once again revolutionizing the footwear industry, with the ultimate goal of changing the way shoes are produced, sold and discarded, contributing towards a sustainable future
Angelos Stavrakis SafeSize's founder.
SafeSize's AI-based Digital Sales Assistant is designed to offer personalized shoe recommendations to consumers by combining their foot data (3D Foot Scan) and personal preferences with the available shoe stock of each store.
This innovation is expected to bring major changes to the consumer experience, giving them total control over the entire buying journey, as well as to the operating costs of stores, as they will be able to recommend and sell shoes without the need of a qualified sales assistant
Angelos Stavrakis SafeSize's founder.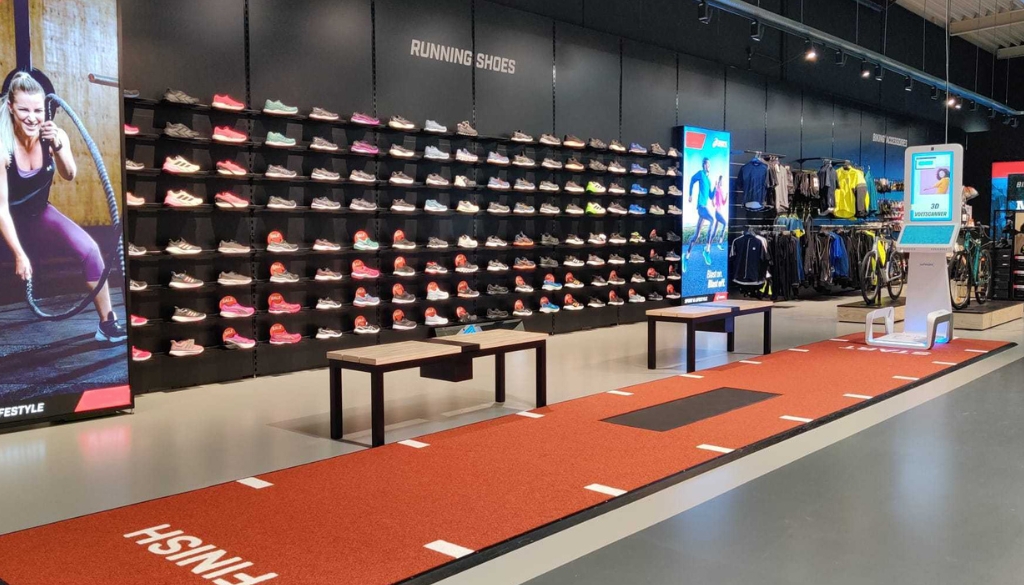 What problems it solves
The Greek startup's Digital Sales Assistant does not aim to replace salespeople, reducing jobs, but combined with their physical presence, it aims to reduce sales losses due to high traffic, answering key problems the footwear retail industry is facing.
Today, footwear retailers in physical stores face a number of challenges such as increasing operating costs,labour shortages and ever-increasing people costs, as well as frequent changes in store staff, which, in turn, create inconsistencies in the sales approach and a constant need for re-training. In addition, the complexity of shoe technology topics requires a lot of knowledge and results in the need for constant re-training of staff to build the required technical, product and brand expertise. At the same time, modern consumers increasingly prefer tech solutions and online experiences within physical stores and are expecting more connected journeys.
International expansion
The global shoe market, worth more than €300 billion, faces a key problem: what is the right shoe size?
This question leads to tens of billions in lost sales each year in physical and online stores and an increase in shoe returns that significantly impact retailers' costs, create a negative consumer experience and harm the environment through unnecessary production and transportation of shoes.
SafeSize has developed an innovative solution to this problem. The company recently secured €14M in series B funding to support its global expansion and accelerate its entry into new markets such as the US.
The innovative start-up, founded in 2013 by Angelos Stavrakis, has an international presence with offices in Netherlands, Greece, Slovenia, China and most recently started its operations in Australia and New Zealand. It has 9 shoe scanning facilities around the globe and is helping more than 20 million consumers in 50 countries find the perfect shoes.
The perfect fitting shoes
Utilizing Artificial Intelligence and 3D imaging technology, SafeSize's software matches consumers 3D foot scan with the world's largest shoe database and provides highly personalized shoe recommendations helping consumers buy the perfect fitting shoes on both physical and online stores.
The SafeSize solution is used in more than 5,000 locations, with the company working with leading retailers and brands including INTERSPORT, Decathlon, SportsDirect, Xebio Super Sports, HOKA, Marks & Spencer. The company currently employs 60 people from 18 nationalities, 40% of which are women and will reach 100 in the coming months.
You can read the original article in The Power Game HERE
Journalist: Natasha Frangouli