28 March 2023 – SafeSize, the innovative retail tech company that is helping people find the perfect fitting shoes in physical and online stores, announced today it has raised €14 million in Series B funding with participation of Phaistos Investment Fund as well as existing investors Convent Capital and 3TS Capital Partners.
The funding comes at a time of growth for SafeSize. As part of its strategic plans, SafeSize will use this capital to expand internationally entering new markets such as the US, fuel its growth in the APAC region, further invest in tech innovation and scaleup its product offering leveraging 5G connectivity.
SafeSize has pioneered a new way for footwear retailers to provide their customers with personalized shoe recommendations, strengthening its leadership position in the footwear virtual fit market. Through its proprietary technology, powered by AI, it matches consumers' 3D foot data and personal preferences with the world's largest shoe database to provide highly accurate and personalized shoe recommendations, in just a few seconds.
SafeSize powers the largest retailers in the footwear industry today, such as INTERSPORT, Decathlon, Sports Direct, HOKA, New Balance, Sketchers, Super Sports Xebio, CCC and Marks & Spencer helping them increase conversion, drive sales, build customer satisfaction, capture valuable data and at the same time reduce returns. With offices in Netherlands, Slovenia, Greece, China and most recently expanding its operations in Australia and New Zealand, SafeSize has helped more than 20 million consumers in 50 countries find the perfect fitting shoes.
The company also operates 9 shoe scanning facilities around the world, scanning and analyzing more than 1.5 million shoes every year, creating the world's largest database of shoes inner dimensions, sizes and other characteristics.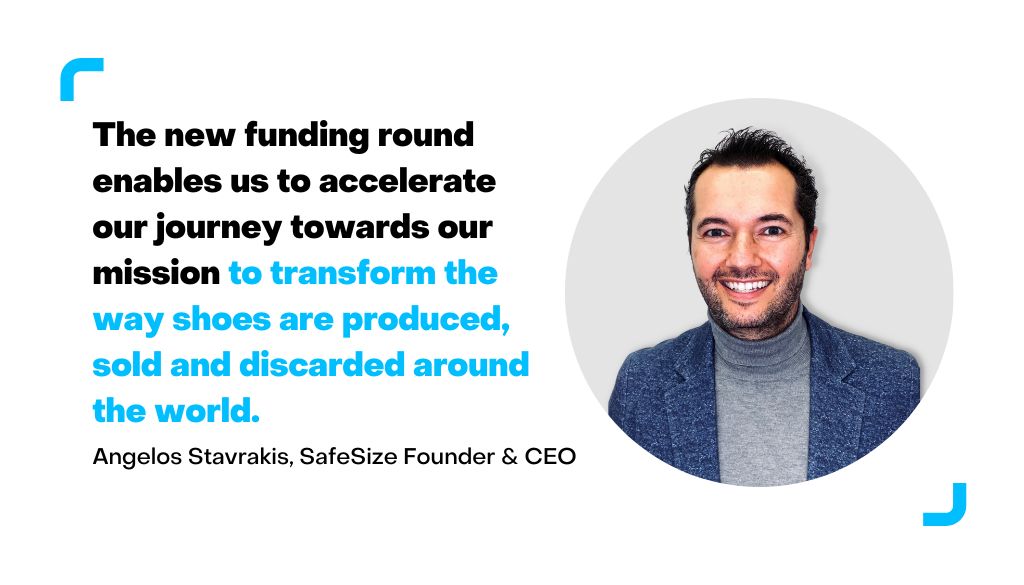 The new funding round enables us to accelerate our journey towards our mission to transform the way shoes are produced, sold and discarded around the world. I'm thankful to our super talented team and our amazing partners for the journey so far. Special thanks to our valued investors Convent Capital & 3TS Capital Partners for their continuous support and to our new investors Phaistos Investment Fund for their trust in our team and vision!
Angelos Stavrakis SafeSize's founder.