Angelos Stavrakis, Founder and CEO of SafeSize, the startup company that uses advanced technology to help people find the ideal shoes for their feet, gives an interesting interview, a heartfelt confession, to Startupper Magazine and reveals the secret of SafeSize's success as well as the eco-friendly plans for the future of the ever-evolving company.
SafeSize: a brilliant idea from Greece, a first funding from the Netherlands, an innovative solution to the key problem the footwear industry is facing 'which is the right shoe size?' and a vision to transform the way shoes are produced sold and discarded contributing to a sustainable future.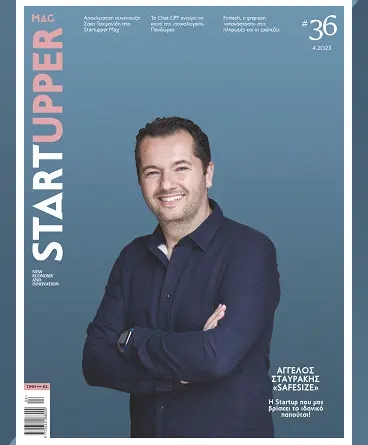 Startupper Mag: An original and practical idea – using technology to find the perfect shoe size and model! Tell us how you were inspired to create SafeSize.
Angelos Stavrakis: SafeSize began as a technology startup aiming to solve a key problem the global shoe industry is facing, 'what is the right shoe size?' and more specifically to help consumers find perfectly fitting shoes in both physical and online stores. The idea was born in Greece and travelled to the Netherlands where we secured our first funding. We started our journey from a small room in the eastern part of the Netherlands and have now grown to 5 offices in the Netherlands, Greece, Slovenia, China, Australia and soon we will start the operation of our new office in the US.
Startupper Mag:
Virtual fitting and 3D foot scanning – we would like a breakdown and explanation of the terms for our readers, as well as your opinion on the retailers' response to your tech solution.
Angelos Stavrakis: Our solution is based on 3 pillars
3D Foot Scanning. For physical stores SafeSize has developed the most advanced technology of 3D imaging of the foot which is achieved in just 2 seconds and with millimeter accuracy. For online shopping we have created an app that enables the user to scan their feet at home with their mobile phone following a quick and easy process.
3D Shoe Scanning. Shoe sizes vary significantly by brand and model. SafeSize has developed a unique technology through which it scans all the shoes available in the market and creates 3D models with the exact dimensions of all the shoes. Every year more than 1.5 million shoes are scanned at one of the company's 9 shoe scanning facilities in Europe, Asia and America. SafeSize is the only company in the world that has a database of the inner dimensions of the shoes, information that even the manufacturers themselves do not have.
Virtual fitting / Artificial Intelligence Algorithm. SafeSize's algorithm combines the 3D Foot Scan data and the customer's personal preferences with the largest shoe database and virtually tries on the customer's feet all available shoes, in just a few seconds. Our software suggests to the customer the shoe size and model that fit his feet best. The customer saves the digital foot profile created which can be used in the future to buy shoes easily and quickly either in the physical store or online. The AI-powered algorithm learns as the customer buys and constantly personalizes the recommendations provided.
SafeSize's solution is available for all types of shoes in the market, from sneakers to heels and sandals. In addition, we offer a tailored solution for children's shoes. Almost 70% of children aged 3-10 years old, wear tight shoes for periods of several months, creating developmental problems to their sensitive feet. For children of this age group, SafeSize has developed an algorithm that suggests the perfect fitting shoes for the smooth growth of the foot and provides a prediction of the growth of the foot notifying the parents of the right time to replace their children's shoes.
At the very beginning, footwear retailers were skeptical about our solution as it was something new to the market. The first two years were not easy since we had to develop our solution and at the same time create this new market. After we signed the first agreements with international leading footwear retailers, demand increased and now retailers are actively looking to integrate our solution in both their physical and online stores. The most important thing is that when they start working with us they stay loyal for many years.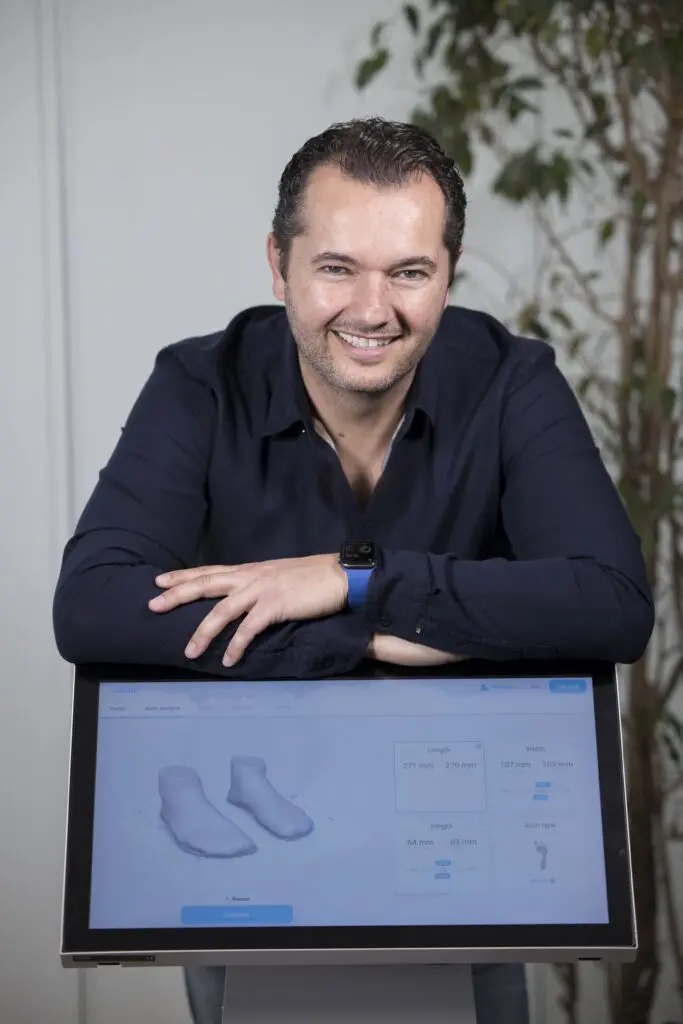 Startupper Mag: Which well-known shoe brands and from which markets have chosen to partner with SafeSize?
Angelos Stavrakis: SafeSize's clients include the largest retail chains and shoe brands in the world such as: INTERPSPORT, Sports Direct, Decathlon, Marks & Spencer, New Balance, Hoka, Skechers, etc. 
Our solution is used by 20 million consumers in more than 2000 stores in 50 countries. I am very happy that SafeSize is currently the largest and fastest growing virtual fitting company in the world.
Startupper Mag: Your company recently secured funding of 14 million euros, with the participation of Phaistos Investment Fund. In which areas do you intend to invest these funds?
Angelos Stavrakis: The funding comes at a time of rapid growth for SafeSize and is the largest to date. These funds will be invested in expanding our operations in new markets such as America and Australia, strengthening our presence in Asia as well as in the research and development of new tech solutions and products leveraging 5G connectivity. Our goal is to double the number of consumers we help each year find the perfect fitting shoes and to help footwear retailers and brands reduce product returns and optimize shoe production contributing to a sustainable future.
Startupper Mag: As founder of a successful Greek startup with a presence in Greece and abroad, what would you advise young entrepreneurs?
Angelos Stavrakis: In my opinion, 3+1 are the most important elements of success.   
A real solution to a real problem: It is very important to find a real problem that applies to a big part of the global market and create a real solution. Problems that concern only local or shrinking markets, solutions that don't really work, putting emphasis on the technology and not on the problem we are called to solve, are some of the ingredients that lead to failure.
Team: The people who will be supporting the effort are extremely important, especially in the early stages of the company. A strong, complementary and close-knit team significantly increases the likelihood of success. And regardless of the outcome, it is the team that makes the journey worthwhile. These are the people with whom you will celebrate successes and who will stand by you in difficult times.
Mentality: To succeed in the startup world you need to show remarkable resilience. You will face many obstacles that at times will seem impossible to conquer. You will 'fall' many times and have to get back up and keep going. We call it 'zombie mentality' or 'phoenix mentality'. Character strengths such as perseverance and faith are key as long as you believe you are on the right path.
+1 Timing: This is not something you can accurately calculate from the outset and definitely requires a bit of luck!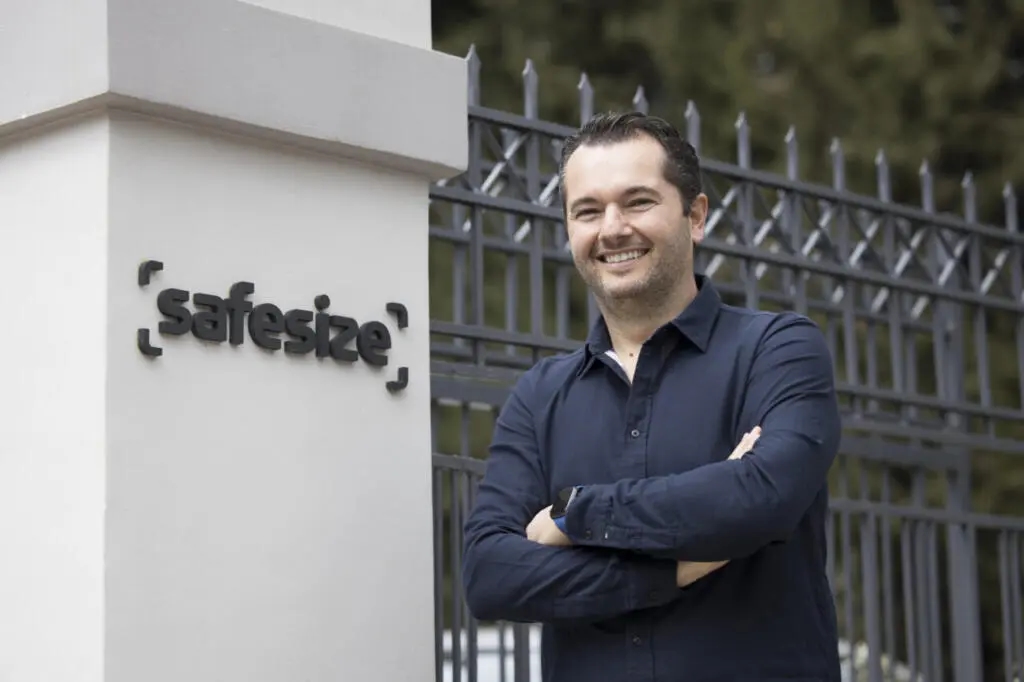 Startupper Mag: Tell us about your company's Innovation & Development Center in Greece and about the self-service Digital Sales Assistant solution you are launching soon.
Angelos Stavrakis: In 2021, we created the SafeSize Innovation & Development Center in Athens investing in the talent that exists in the Greek market and creating new job opportunities with a view to design and produce all new products and solutions. We have a multidisciplinary team of 21 talented people working at our Innovation & Development Center, 57% of whom are women, a number expected to double in the coming years. We recently won the Elevate Greece 'Extroversion and Business Development Award', for which we are very proud!
In the coming months, we are planning to launch the company's new innovative product, designed in Athens, the Digital Sales Assistant (DSA). It is an autonomous, self-service, sales assistant for the physical stores, which will be able to offer personalized recommendations to consumers by combining their foot data (3D Foot Scan) and personal preferences with the available stock of each store. The goal is to fill a gap that exists in the global market as there is a shortage of sales staff in physical stores. The Digital Sales Assistant is designed to provide a unique and highly personalized shopping experience to footwear customers. The DSA solution is already launched and tested in footwear stores in the Netherlands and Ireland.

Startupper Mag: How important is it for a startup company to have the right people in the right positions and keep them happy?
Angelos Stavrakis: In my opinion this is extremely important! Strong teams are built on the right people. We have a people-first philosophy and the needs of our team are a key priority. It is not always easy to keep all colleagues satisfied, especially when we are talking about 19+ nationalities in 5 countries or when the ambitions of the company exceed the capabilities of some team members. But whatever we do, we always do it with our people in mind, even if it comes at a cost to the company. I firmly believe that focusing on the needs of your people and genuinely caring is both ethical and beneficial in the long run.

Startupper Mag: Finally, what are SafeSize's plans for the immediate and mid-term future and how important is your effort to reduce the negative environmental footprint of the footwear industry?
Angelos Stavrakis: Our goal is to strengthen and expand SafeSize in new markets, such as America, China, Australia, Japan, etc., as well as to develop new innovative products and services. Our vision is to transform the way shoes are produced, sold and discarded and contribute towards a sustainable future. Our tech solution helps reduce product returns (purchases of the wrong size) resulting in lower environmental impact. At the same time, we hope in the near future to be able, through the rich primary data (3D foot scans & 3D shoe scans) that we have and continuously enrich, to change the way shoes are made reducing the excessive number of shoes that are produced and end up in landfills.